Beijing Capital Airport (PEK)
Use this website to quickly find the most important information about Beijing Capital International Airport: Flights (Departures, Arrivals), Parking, Car Rentals, Hotels near the airport and other information about Beijing airport. Plan your travel to PEK Airport with the information provided in this site.
Beijing Capital International Airport (IATA: PEK, ICAO: ZBAA) is the main airport that serves the city of Beijing, People's Republic of China. The airport is located 32 km (20 miles) northeast of city center.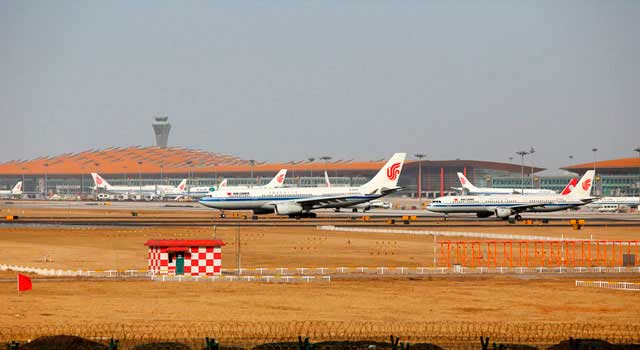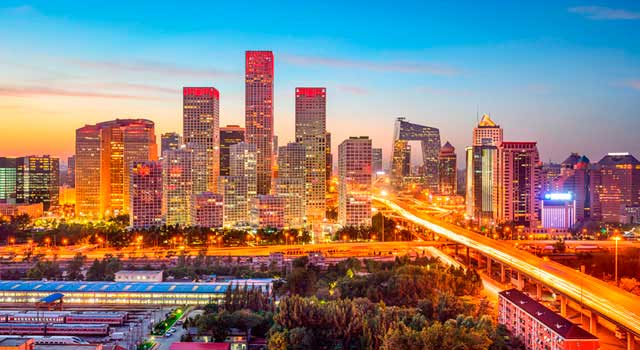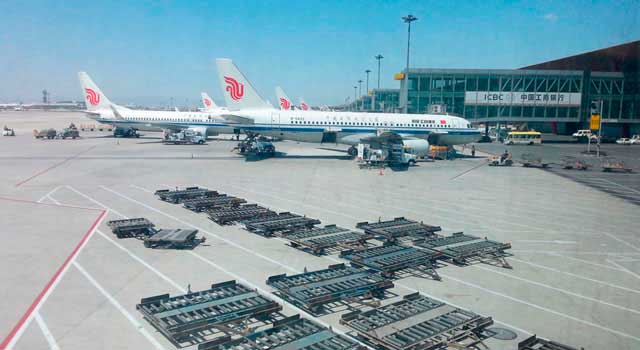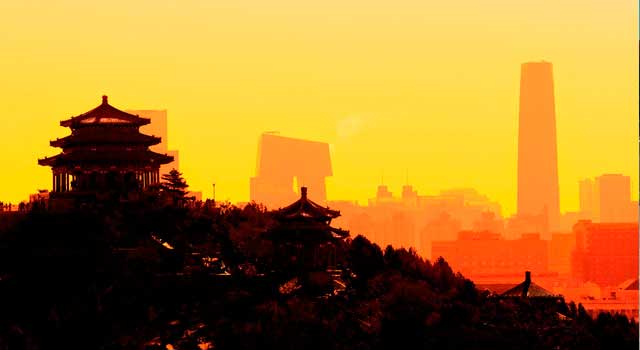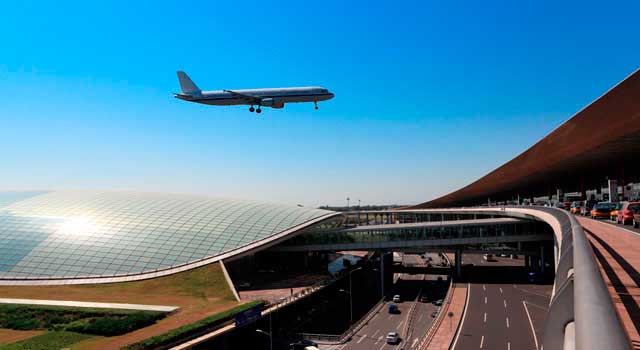 There is another airport in Beijing called Beijing Nanyuan Airport, only used by China United Airlines. Beijing Airport serves as the main hub for Air China, China Southern Airlines, Hainan Airlines and China Eastern Airlines. . The Terminal 3 was inaugurated in 2008 for the Olympic Games, being the second largest airport terminal in the world after Dubai airport.
Air China is the main airline in the airport with more than 120 destinations. Now, serves the flights of Air China, Star Alliance and Oneworld members, among others. In 2015, 90,1 million passengers used the Airport, being the second largest airport in the world in terms of passenger traffic after Atlanta Airport. In 2007, just before inauguration of new T3, the airport was the ninth.
Terminals 1 and 2
Beijing Capital airport has currently 3 active terminals, 1, 2 and 3. Terminal 1 and 2 are located together, Terminal 3 is 5km driving from them.
- Terminal 1: It is the smallest terminal on the airport and was reopened in 2008 after a refurbishment. It serves domestic flights operated by the HNA Group including Grand China Airlines, Hainan Airlines, Tianjin Airline or Spring Airlines, among others.
- Terminal 2: opened in 1999, serves more than 30 airlines. Before opening T3, it was the main terminal.
Currently houses China Eastern Airlines, China Southern Airlines, Skyteam, Air Koryo and other domestic and international flights other than those operated by Air China, Shanghai Airlines and Star Alliance/Oneworld members.
Terminal 3
Terminal 3 is the main terminal of the airport covering an area of 1,713,000 square meters, with 2,900 meters long from north to south. It was inaugurated in 2008.
Currently it serves all flights from Air China and 40 other airlines.
The terminal is divided in 3 concourses, named C, D and E, from south to north.
T3-C: Is the closest part to the main entry of the terminal, dedicated to domestic flights.
T3-D: Is the medium part, only used by some flights of Air China.
T3-E: Is the far side from the main entry, is dedicated to international flights.
Important: The distances in this terminal are really huge, consider more time if flying from here.
Transportation
- Rail: Beijing Subway has an Express line that connects Terminal 2 and 3 from the airport to city center (stops at Sanyuanqiao and Dongzhimen). The trip takes approximately 16-20 minutes and costs CNY25/person
- Taxi: Locations:
T1: Outside Gate 1 on F1.
T2: Outside Gate 5 to 9 on F1.
T3: Please refer to the signs inside the terminal building.
- Bus: Various airport bus routes to different parts of Beijing and neighbouring cities. It is necessary to buy the ticket at the terminal prior entering the bus.
Car Rental
Check prices and options here (cars + driver)
Inter-terminal transportation
Terminal 1 and 2 are connected by a public walkway that takes 10-15 minutes. To reach Terminal 3 from Terminal 1 or 2, is it necessary to use shuttle service.
Free Shuttle Service connects terminals 1, 2 and 3. The stops are located:
T1: outside Gate 7 F1
T2: outside Gate 7 F1
T3: Gate 5 F1
Contact information
Address: Shunyi, Beijing, People's Republic of China
Telephone: +86 10 96158
Lost and Found
Terminal 1, 2: Gate 15, F1, T2. Phone: 0086-10-96158.
Terminal 3: East of Exit A of Arrival Hall, F2, T3-C. Inside the Information Counter, F2, T3-D. Inside the West Information Counter behind Security Check Zone, T3-C. Phone: 0086-10-96158.